| | | |
| --- | --- | --- |
| | "An Urban Scrooge for the modern stage with a young woman fighting for life itself..." DAO 2009 | |
| | | |
| | | |
| --- | --- | --- |
| | The Journey | |
| | | |
Crossings was commissioned as work in progress by DaDa Festival (Deaf and Disability Arts) Liverpool. An extraordinary team of creatives brought the production together, directed by Karena Johnson with set designed by Chris de Wilde and visuals by Caglar Kimyoncu.

The production uses integrated sign language throughout created by Hetty May Bailey, interpreter and BSL consultant. It opened at The Cochrane Theatre in London to full houses in June 09 before transferring to Treasure House Theatre and Bird Theatre, Liverpool.

The full production launched RichMix's Identity and Migration season directed by the inimitable Paulette Randall, starring Margo Cargill, Nadine Wild Palmer and Julie McNamara. Crossings was one of the hottest theatre tickets at the Decibel showcase in Manchester and went on to tour throughout the UK.
The Creative Team

The Tour
| | | |
| --- | --- | --- |
| | Web Design: Lesley Willis and Julie McNamara Julie McNamara 2011 | |
| | | |
Tobacco Factory, Bristol
5th, 6th & 7th November 2009
The Cochrane Theatre, London
17th & 18th November 2009
Unity Theatre, Liverpool
20th November 2009
Arena, Wolverhampton
26th & 27th November 2009
Darlington Arts Centre
1st December 2009
Salisbury Arts Centre
10th December 2009
Contact, Manchester
3rd & 4th Frebruary 2010
The Baby Grand
Grand Opera House, Belfast 9th, 10th & 11th February 2010
Director Paulette Randall
Director Karena Johnson (Work in Progress)
Set & Custom Designer Chris de Wilde
Composer Susannah Self
Visuals Designer Caglar Kimyoncu
Soundscape Theo Holloway
Lighting Designer 1 Gursen Houssein
Lighting Designer 2 Crin Claxton
Visuals Operation Finbar Cahill
Trainee Lighting Assistant Alan Clifton
BSL Interpreter & Narrator Hetty May Bailey
Actors
Nzingah 1 Margo Cargill
Nzingah 2 Naomi Cortes
Shelley 1 Nadine Wild Palmer
Shelley 2 Sophie Benjamin
Heggarty Julie McNamara
Shelley is 15, pregnant and she wants to get out of the gang. But you don't do that, do you? In a raging storm one night, she finds shelter on an old ferry boat. But this is no ordinary boat, this is the ghost of the Zong, a slave ship with a murderous history. Confronted by two powerful voices on board Shelley finds herself questioning everything she holds dear and is forced to fight for her future. Who are these ghostly visitors? Are they for or against her and will she ever get out of this alive?
Heggarty confronts Nzingah as a panic stricken Shelley tries to intervene. Pictured: Margo Cargill as Nzingah and Nadine Wild Palmer as Shelley.
Directed by Paulette Randall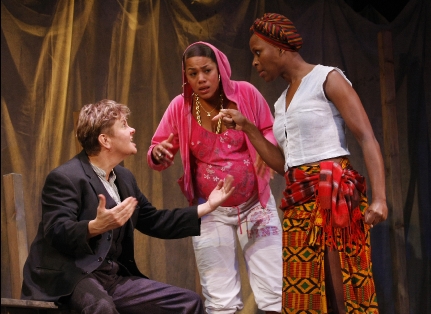 Michele Martinoli