Who's WHO?
Defining Faces of an Arts Movement - Tanya Raabe's Touring Exhibition at Faith House Gallery, Holton Lee. Julie Mc has a passionate moment on encountering her own portrait for the first time. I can see the family likeness!
Check out Tanya on : www.tanyaraabe.com
Web Design: Lesley Willis and Julie McNamara
Julie McNamara 2011
Marching for Disabled People's Right to travel on public transport.
Chris Ledger 1996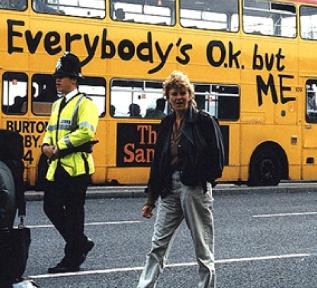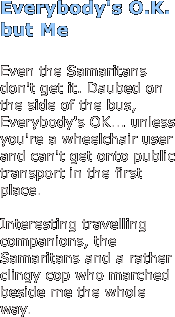 Jan 2012 - BACK THE SPARTACUS REPORT - put together by disabled activists, organisations and others in the disability community. This is a direct challenge to the government's current Welfare reform bill. GET YOUR MPs, Councillors and public representatives to back this report.
2008 Creative Choices UK filmed during a national tour of Pig Tales by Julie McNamara. The play was commissioned by Karena Johnson and Pat Place for Xposure Festival of Disability Arts.